Today I promised myself a day off, with other things to do. I almost made it, but after coming home from Kredl's at suppertime, I could not help myself. I stuck some plugs in some holes.
I had a rubber hammer to whack them in, quite an assortment of saws to choose from, and a sander to finish off the job. There are 72 plugs in the initial round on the top rail. I've probably done 20.
Mr. Wood on YouTube is right -- even the thin Japanese saws wlll scratch the surrounding wood. Skill or a different saw? Not sure.
BEFORENote that this is the part that Harv did, hence the plugs match the screw holes. Lucky me.
Plugs pounded inThere's a little glue in there, too. A savvy person would notice that I forgot to line up the grain.
Nice selection of saws.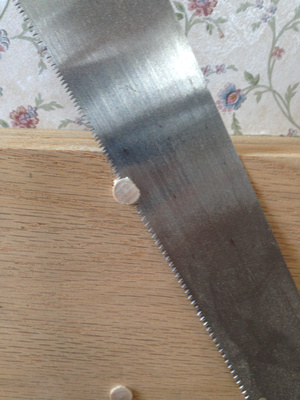 Sawing off the top
Cleanup
That's all for today. Tomorrow I'll finish this, and hope to buy smaller plugs for my holes.
---
---