It has been a long time since I worked at the living room panelling, but the time has come to get back to this and get the job finished. I've spent a few hours in there mulling over the situation, and I have finally got the top pieces all cut, except for the final one, that has to fit between two mitred pieces. It will be a good luck thing and the very end of the job.

The last piece
What this means, of course, is that I have managed some mitres!! Even that pesky corner wall.
This is the best one.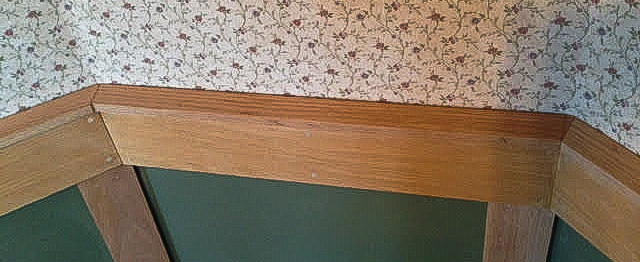 Hopefully it will look a bit better once it's nailed down.
This is the best of the corners, and below is the corner wall. It's a little wonky to begin with, but I think this will be ok once its all nailed down.
The not-exactly-level wall behind it, can be fixed with a little strip that will look like it belongs there.
It's very treacherous in the room right now, the floor has a lot of sawdust on it -- so be careful if you decide to visit.