This blog will track the progress of my attempt to finish panelling the Living Room. The back story is below.
I feel compelled to share this plan in hopes that I will actually get at it, and finish it in a reasonable time.....or give up early and hire someone who actually knows what they are doing. In my quest to get the house sell-ready it has been in the back of my mind to find someone to finish this project. To a new acquaintance/inspirational wood-worker, I owe the consideration that it just might be possible to do this job myself. I had forgotten how much I actually like woodworking, not that I ever did much independently.

As you probably know, Harvey was great at starting things, and not so fabulous at finishing them. One such project was the wainscoting in the front room....the room that was once properly decorated and set up to be a cozy "living room".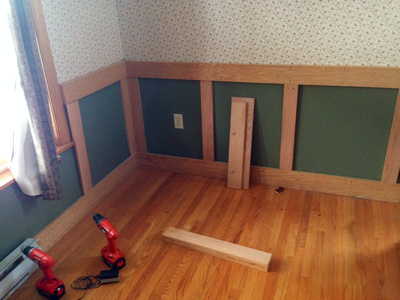 Starting point
The top and bottom are attached, only the corner vertical boards are attached.
At some point, I forget exactly when, H decided to enhance the decor with panelled wainscoting and a chair rail. This would use up some 40 year old oak that was hanging around for the vertical stiles, and some oak plywood for base and top boards. He installed and painted a masonite backing, the baseboard, and top board, bought some chair-rail molding, and vertical pieces in 2 corners. I think he had a plan for elaborate moldings inside the panels that would ultimately be created, but I don't remember how that was supposed to go.
When I was cleaning in the basement last summer, he cautioned me not to get rid of any oak, because all the pieces for the living room were down there cut out. At the time I could not find them, but I have subsequently uncovered them. They lay buried in the basement under piles of kayak parts and cedar dust, and indeed they are mostly cut to length with the screw holes pencilled in.
Hard Part is Done
Harv marked all the locations for the screw holes.
Unfortunately, most of the boards are about 1/16 inch too long.

Brian is a local woodworker who is interested in some of my kayak stuff. His enthusiasm about all things wood, has rekindled an interest that has got me thinking that just maybe I could use some of the tools and paraphenalia around here instead of just turfing it to get a clean basement. Of course, this could be a passing fancy -- I'm ok with that.
I picked Brian's brain the other day, and he advised me that the best plan for my wainscoting is to drill and countersink screw holes and screw the oak to the wall. Glue would work, he said, but would be very messy, and drilling is much simpler. This seems bizarre to me, but I am prepared to accept his expertise. After the drilling I will have to cut some boards to fit around the windows, cut molding to fit around the bottom and fill all those screw holes with putty or little wooden plugs - which I think is a
much cooler option.
Molding will go here
I will have to figure out how to carve cove molding or some other fancier stuff to fit around these posts.
So what do you think? Can I re
call, or learn anew, how to use the host of tools around here, and actually do this job myself? Until now, it has been the farthest thing from my mind, just a source of annoyance - another undone thing around the house.
Step 1 is to learn to use a drill press. I don't think I ever actually used a drill press, but, I have learned that you can find out almost anything on YouTube, and lo, two 5-minute videos have given me the background I think I need.

I also located the missing chop saw in the garage, and that should be fine for shaving off the too-long bit of the boards.

I am still fearful of the table saw -- I will just have to get over that, I guess.

And so I thought if I shared this with a few of my friends, I would feel compelled to actually overcome my inertia and my fear of messing up, and see if I can get this done before March break when the kids will fill the room with Lego.
Subscribe below if you wish to follow my progress or lack thereof. Drop by if you want to help.