Today is the test of what I have and have not learned. The project is turning out to be a cause of sleeplessness....it's more fun to lie awake thinking of possibilities, than to rest up so as to tackle the next challenge. My challenge today is to use the drill press and table saw all by myself, and to take note of a few inequities that will require some attention, such as a missing piece of baseboard, Fibre-Op wires coming through the wall, and a structure by the window that just does not look right.
So I donned by dusty clothes and set to work.
12. DONE: Measure all the stiles, and drill all the holes.
Except for the one that the wires have to pass through, and one that will sit on the as yet missing base, I have measured, sawn, drilled pilot and countersink holes, and in some cases re-measured and re-cut for length. This is awesome! I have figured out how to change the bits in the drill press and to use the saw for simple cuts without stressing out.
I found myself cogitating again -- The boards that butt up to the doorway will stick out past the door frame, and it would be a fine thing if these were bevelled at the edge. I might get up the nerve to try and set the saw to do that....or not. You Tube will be consulted.
13. DONE: Screw in the baseboard that was left loose from the wall.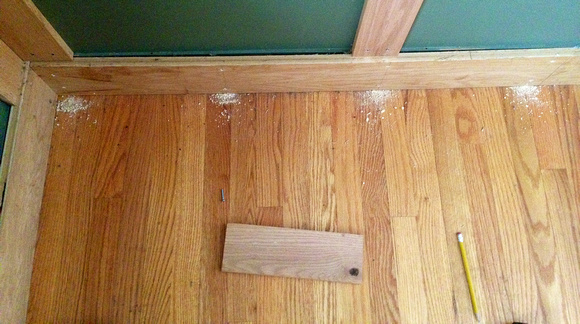 Sawdust. Sign of work done.A careful eye will realize this picture was taken before the screws were put it to suck the baseboard in to the wall.
This needed screw holes and countersinking in place with the hand drill. I talked about that yesterday, but today I collected the right bits and managed to finish the job with longer screws.
14. DONE: Observe that this could be a weight-loss program.
There are a LOT of trips up and downstairs. There could be benefits far beyond getting the job done.
15. UNDERWAY: Place each board; drill hole through masonite; screw and countersink.
This was the bulk of the day's work -- the leadup with the tools, the measuring and levelling and drilling and screwing of all but those boards needing special treatment. I think there are 4 left. What a great feeling to see this major progress marker almost finished.
16. STILL THINKING ABOUT THIS: Find a bit of plywood and make missing piece of baseboard.
Given the amount of plywood and other wood in my basement, I am surprised I cannot see a piece of oak plywood about 6"x10" which is required to finish off the baseboard. I will probably have to make it from actual oak, and bastardize something to get it the right thickness. I suppose I could challenge myself to figure out the thickness planer, but I'm not sure I'm ready for that. Hopefully a bit of a search will turn up something. I will have to make a mitre, too, but the good news is that it will be covered with a moulding. The mitre on the moulding will be the actual problem down the road.....this one, maybe just a practice run.
There is also the issue of how it extends out past the door frame. AH-HA! This would be a good reason to use solid oak instead of plywood, and put a bevel on the edge. BUT, that would make it unbalanced from the other side of the door. There is a lot of thinking involved in this stuff.
17. DONE: Read up on plugging holes.
There are a million YouTube videos on how to plug holes with plugs, with putty, and how to make your own plugs. I wonder if we have one of those tools? I know we have some packages of plugs and a million chisels and Japanses saws to slice them off with. More decisions.